CLUTCH / FLYWHEEL / DIFFERENTIAL
Everyone loves more horsepower, but it's useless if your clutch can't hold said power. For example, with just an APR Stage 1 upgrade, a MK7 Golf R with a manual transmission will experience clutch slip due to the massive amount of torque increase over stock. Not to worry though, we are a South Bend Clutch Authorized Distributor which allows us to offer multiple levels of clutch upgrade options that will handle whatever power level you're aiming for.
FACTORY DUAL-MASS FLYWHEEL REPLACEMENT
Most modern Audi and Volkswagen vehicles on the road today feature a dual-mass flywheel to reduce vibrations and offer smoother, easier clutch engagement. While this offers improvements in comfort, the factory dual-mass flywheel often needs replacement around the same time that the clutch kit itself does.
Achtuning carries Genuine Audi / Volkswagen, LuK, and Sachs replacement dual-mass flywheels that can be installed when the original unit needs replacement due to spring wear or degraded friction surfaces.
WAVETRAC LIMITED SLIP DIFFERENTIALS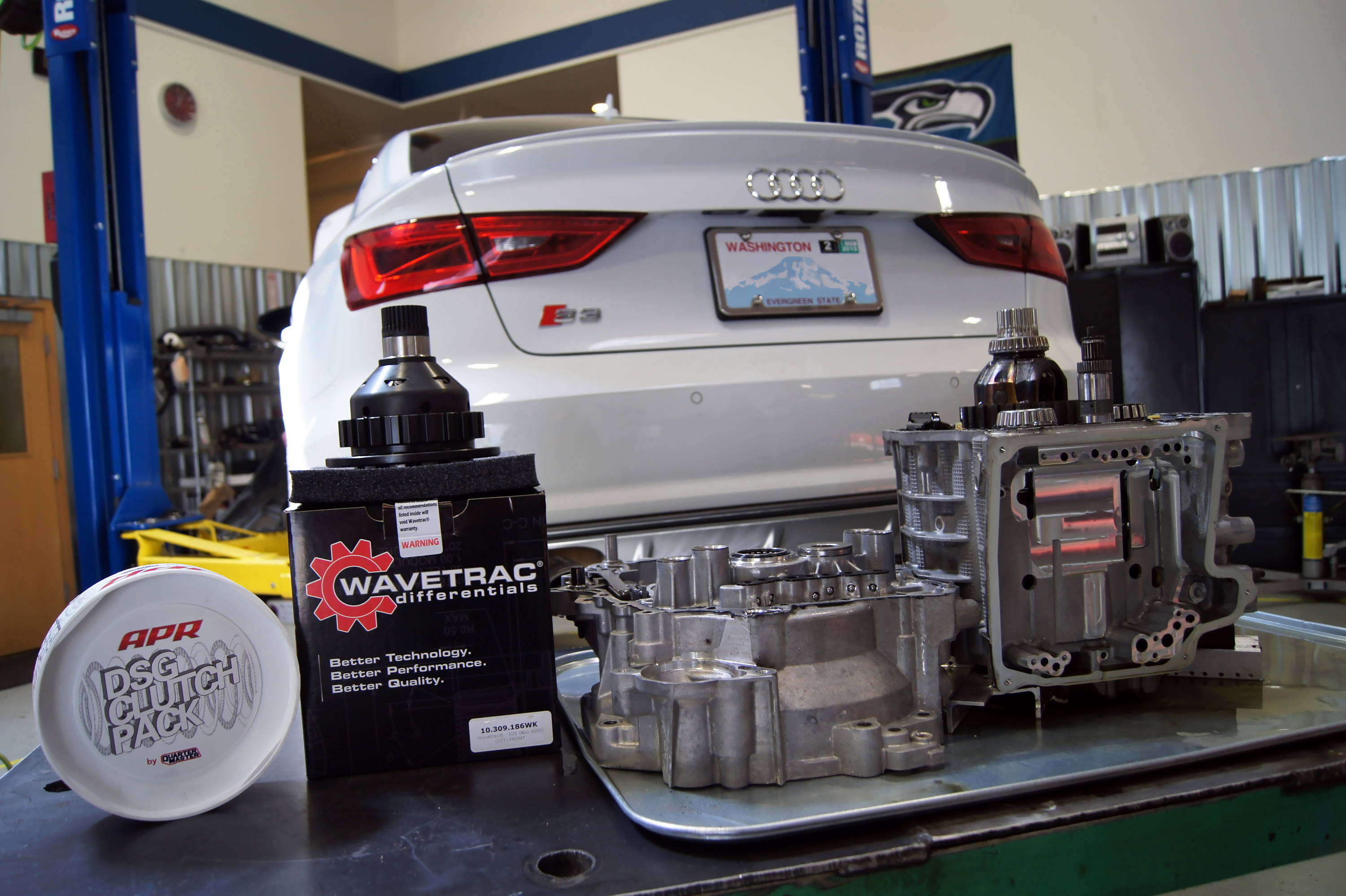 Many Front Wheel Drive Volkswagen and Audi's have open differentials. This means the car directs all of its power to one wheel which results in major understeer and traction loss issues, especially in low grip environments. Even the All Wheel Drive variants like the Golf R and S3 have open differentials in the front and rear. While AWD is much better than FWD in terms of overall grip, there's always room for improvement. That's where a Wavetrac Limited Slip Differential comes into play. Wavetrac is the only differential on the market that will send power to the opposite wheel if one side experiences no grip due to the wheel lifting (as in aggressive cornering) or during zero load conditions (such as ice or similar low traction surfaces). A wavetrac differential responds to these circumstances and transmits power to the wheel which has traction.
• Innovative:
Patented Wavetrac® design automatically improves grip in low traction conditions. This feature is truly innovative and unlike any other torque biasing diff design.
• Superior Materials:
9310 steel gears run in case-hardened billet or forged steel bodies. ARP® fasteners used throughout.
• Maintenance Free:
As supplied new, the Wavetrac® differential will perform a lifetime of service without maintenance or rebuilds.
• Customizable:
If desired, you can alter the diff's behavior to suit your needs using optional components.
• Limited Lifetime Warranty:
All Wavetrac® differentials include a transferable, Limited Lifetime Warranty.
"Kelly and Chris exceeded my expectations! I am very particular on who I let touch my car and I'm glad I chose Achtuning! These guys replaced my clutch with an upgrade over OEM for about $1000 less than my VW stealership quoted for replacement with their inferior stock parts. I highly recommend bringing your car here and have already made plans to come back for some incredible performance upgrades!! Thank you Kelly, Chris, and the whole Achtuning team!!"
- Hobby 142
"Achtuning has been doing five star work on my B8 Audi S4 for something like five years now. I originally came in for an APR tune, which wasn't too complicated, but I was immediately impressed by the facilities and the knowledge of the guys working there. Kelly, who I believe is the service manager, takes the time to answer my ocd questions and seems honest and upfront about all pricing. I have now started doing all of my maintenance and repair work at Achtuning. I very recently replaced my clutch disk, pressure plate and flywheel, which is not a small job. They gave me a fair quote for the work (definitely better than the Audi dealer) and had my car back to me the next day. Also found a leaking rear main seal while in there and took care of that. The tech working on my car, Trevor, took the time to take apart my old clutch assembly and show me a couple things I had questions about. If you are looking for an independent shop for your Audi or Volkswagen, Achtuning is a great choice."
- Johnny Blank
In need of a drivetrain component replacement or upgrade? You can reach one of Achtuning's Service Advisors by calling 425-895-0000, or emailing service@achtuning.com.